Elizabeth Morgan
Elizabeth Morgan is a main character on The Vampire Diaries : Out of The Woods
she is going to be played by shailene woodley in the seires she`ll be going to a school
in a small town called mystic falls where she meets another new student  named bella johnson
she also meets some of the old students from the school their names are  Elena Gilbert , Stefan Salvatore,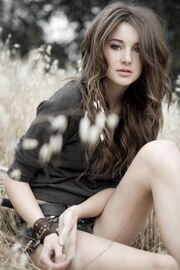 Damon Salvatore, Bonnie Bennet, Jermey Gilbert , Matt Donovan  and Caroline Forbes
she is part of the Morgan family.
The Vampire Diaraies : Out of The Woods
Elizabeth is a vampire and she was turned just like her sister did to and
Ad blocker interference detected!
Wikia is a free-to-use site that makes money from advertising. We have a modified experience for viewers using ad blockers

Wikia is not accessible if you've made further modifications. Remove the custom ad blocker rule(s) and the page will load as expected.