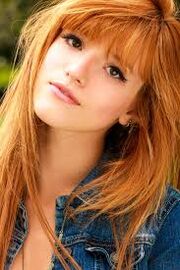 Quinn 'Marilyn' Redmayne is the main character of the fanfiction Red. She is biologically Hank and Crystal Redmayne's granddaughter and niece. She is also biologically her older sister's daughter. She is apart of the infamous Redmayne family and is the second reincarnation of Sigrid.
Biographical Information
Edit
Born:
Status:
Occupation:
Species:
Gender:
Family Members:
Hank Jesper Redmayne (Grandfather/uncle)
Ryan Ethan Redmayne (Biological father/Uncle)
Alec Ryan Redmayne (Half brother)
Jesper's Unborn child (Nephew/Cousin)
Appearance: Played by Bella Throne
First Seen:
Last Seen:
Early Life
Edit
During Season 1
Edit
Season 2
Edit
Season 3
Edit
Season 4
Edit
The Originals
Edit
Personality
Edit
Physical Appearances
Edit
Relationships
Edit
Ad blocker interference detected!
Wikia is a free-to-use site that makes money from advertising. We have a modified experience for viewers using ad blockers

Wikia is not accessible if you've made further modifications. Remove the custom ad blocker rule(s) and the page will load as expected.